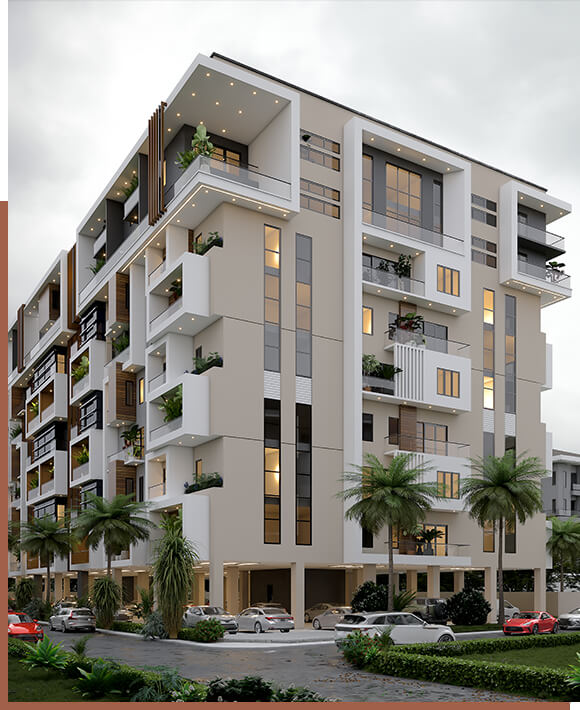 Luxury Living Rooms

Elevator Services

Fully Fitted Kitchen

Uninterrupted Power Supply
Treated Water
24-Hour Security System
Introducing Olivia HEiGHTS...
Welcome to Olivia Heights, an exquisite pinnacle of luxury nestled in the heart of Lagos' most coveted neighborhood.
Prepare to be captivated by a harmonious fusion of artistic finesse and architectural elegance that redefine opulent living.
Indulge in a world of unparalleled beauty and luxury at Olivia Heights, where every detail is meticulously curated to offer you an extraordinary lifestyle experience.
This is not just a residence; it's an embodiment of exceptionality, where your aspirations for grandeur and comfort find their perfect home.
Step into Olivia Heights and discover a realm of sophisticated living that goes beyond imagination. Elevate your everyday life with an array of state-of-the-art facilities meticulously designed to cater to your every need. From swift elevator services that effortlessly whisk you to your abode, to uninterrupted power supply ensuring your comfort is never compromised, and treated water that rejuvenates your senses. All while the fortress-like 24-hour security system ensures your peace of mind is a priority.
Olivia Heights beckons you to revel in the epitome of the good life. Imagine waking up to breathtaking views, experiencing the soothing caress of modern amenities, and being embraced by an ambiance of timeless beauty. This is luxury at its heights, and it's waiting for you at Olivia Heights.
| TYPE | PRICE | STATUS | PHASE | BEDROOM |
| --- | --- | --- | --- | --- |
| 2 Bedroom Maisonette with BQ | | | | |
***Make an Initial deposit of 15m and spread balance over 12 months (interest free)!