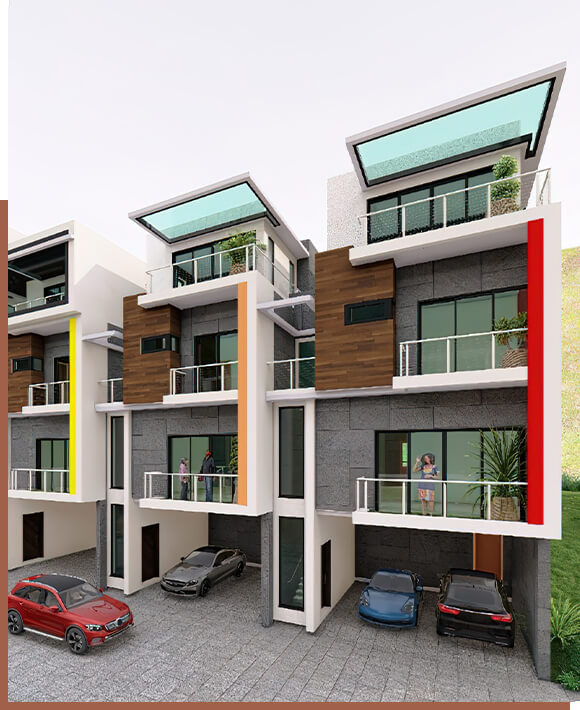 Luxury Living Spaces
Fully Serviced
Assigned Parking
24 Hours Power Supply
Security with CCTV
Treated Water Supply
House Automation
Maid Quarters
Introducing AMINAH'S HILL...
Nestled gracefully before the captivating hills of Guzape in Abuja, Nigeria, Aminah's Hill beckons you to embark on a journey of exquisite living. Much like the legendary Queen Amina herself, this luxury development radiates elegance, beauty, and a style that is truly unparalleled.
As you step into this haven, you'll find yourself surrounded by nature's beauty and the opulent comforts that define the epitome of gracious living.
Aminah's Hill is more than a property; it's a testament to the fusion of nature's splendor and the finest in modern living.
The landscape is adorned with rolling hills and lush forestation, inviting you to embrace a natural and royal experience that resonates with the essence of the good life. Every corner exudes an aura of regality, capturing the spirit of a life well-lived.
Experience the true meaning of luxury as you indulge in world-class facilities that redefine opulence. From the moment you step through the grand entrance, you'll be captivated by the aura of sophistication that permeates every inch of this development.
Aminah's Hill offers a lifestyle that knows no compromise – a haven where the world's finest amenities are yours to enjoy.
As the sun sets behind the enchanting hills, take solace in the knowledge that your haven is a reflection of your discerning taste.
This luxurious development is a sanctuary of privacy and exclusivity. The residences themselves are a testament to meticulous craftsmanship, boasting expansive spaces that seamlessly blend comfort and sophistication. Each detail has been meticulously curated to ensure that your living experience surpasses all expectations.
Aminah's Hill stands as a crowning jewel before Guzape's hills, offering you a life of grandeur and elegance that mirrors the landscape it graces. This is a once-in-a-lifetime opportunity to live within the embrace of nature's beauty while indulging in the luxuries of modern living.
Welcome to Aminah's Hill, where every moment is an ode to the exquisite.
| TYPE | PRICE | STATUS | BLOCK | BEDROOM |
| --- | --- | --- | --- | --- |
| | | | | |
| 4 Bedroom Terrace with BQ | | | | |
| 4 Bedroom Terrace with BQ | | | | |