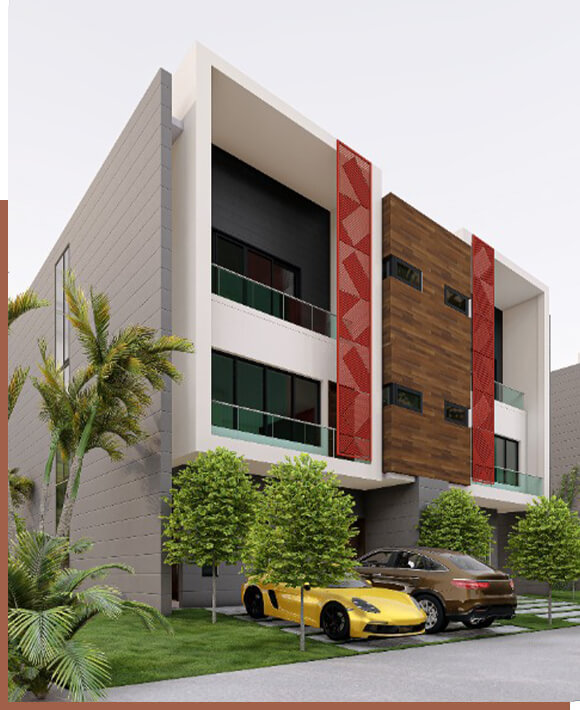 Luxury Living Rooms

Spacious Parking Spaces

Servant's Quarters

Fully Fitted Kitchen

Uninterrupted Power Supply

24-Hour Security System
Introducing ETHANS GROVE...
A harmonious symphony of spaciousness and sophistication, beckoning those who yearn for the extraordinary in life. Nestled in the coveted enclave of Lakowe, Lagos, this residential masterpiece is an embodiment of opulence and comfort, designed to cater to your every desire.
Ethan's Grove is not just a development; it's a testament to the art of luxurious living. Here, affordability meets architectural brilliance, weaving a tapestry of elegance that promises to elevate your lifestyle to new heights. Unveil the doors to your exotic haven, where every corner reflects the vision of unparalleled modernity and timeless beauty.
Discover the essence of refined living within the walls of Ethan's Grove. Our meticulously crafted 4-bedroom terraces with servants' quarters redefine spaciousness, offering you room to breathe and grow. The expansive parking spaces provide a welcome embrace for both family and guests, ensuring convenience is always at your doorstep.
Ethan's Grove isn't merely a residence; it's a sanctuary where your aspirations come to life. Immerse yourself in an atmosphere of tranquility, where the promise of security is unwavering. The sprawling interiors are perfect for creating memories with your loved ones, while the surrounding amenities cater to your every need.
Indulge in the embrace of Ethan's Grove and experience the epitome of suburban luxury. 
Let your journey to the good life begin here, where every moment is a celebration of comfort, elegance, and the extraordinary.
| TYPE | PRICE | STATUS | PHASE | BEDROOM |
| --- | --- | --- | --- | --- |
| 2 Bedroom Maisonette (Shell) | | | | |
| 2 Bedroom Maisonette with BQ (Shell) | | | | |
| 3 Bedroom Maisonette with BQ (Shell) | | | | |
| 3 Bedroom Terraces with BQ (Shell) | | | | |